A Chat about Solar Installations in Florida
Recently, we had a chat with Igor at www.solarempower.com We talked about how Solar Customers in Florida have had mixed results with solar installations. You can take our 2-minute assessment to see if you're situation is right for solar. The simple fact is, every situation isn't right for solar. If you don't have a trusted partner to help navigate your solar installation, you could get burned.
We covered a lot of ground in regard to solar in Florida. One of the things that are important is discovering the difference between a solar broker and a solar consultant. The big idea here is that the guys calling themselves solar consultants are really solar salesman. They represent one solar company, and were trained by that company. They don't usually understand the nuances of solar beyond what they've been told to tell the consumer.
What Does A Solar Consultant or Broker Do?
I don't represent any one company. I represent the client. I help my customers get the most out of their project according to their needs, not the needs of the solar sales quotas. In fact… my background in protecting consumers and businesses from fraud turns out to be a critical asset in the solar industry.
How Does The Solar Energy Analysis Work?
When it comes to the way that most solar pitches are laid out, it's like if you're consuming 50-kilowatt hours a day, you need to produce 50 kilowatts. So, it's going to take 40 solar panels to do that. Let's slam them on your roof and be done with it. The truth is, the energy equation is far more complex than just a bill.

For that reason, I have to have partners in the HVAC industry. I've got excellent AC guys, plumbers for hybrid water heaters, etc. It's taken a while to develop partnerships with these people that I can trust, and I know that when I send them to a customer's house, they're going to represent me and themselves the way that I would expect.

Joe Nash
When solar customers in Floridawatch my videos and they go do more research, they find out I was telling the truth and they want to get in touch with me. It's just doing business the right way. It's treating people with respect and dignity, caring and compassion. This is what's, unfortunately, missing in a lot of businesses today. Particularly the solar industry.
How Does a Solar Consultation Work?
Most of my consultations are almost all virtual these days. With a series of important questions, we can zero in on the best solution for a solar installation. Sometimes solar isn't the optimum solution. We want to make sure we uncover the cost vs benefit equation to determine whether or not to move forward.
There's a lot to consider, from the age of the roof, neighboring structures or trees, electricity usage, and tax credit availability, just to name a few.
I encourage all my clients to dive deep on the solar benefits vs cost. I help them evaluate all the factors. Not just from energy usage today but going forward into the next 2 or 3 decades. The fact is, most of my clients replace their electric bill with a temporary solar payment. After that, the money used for energy is often moved to long-term savings. Ensuring a prosperous future.
What about the future of solar?
"When it comes to solar in Florida, at least, there are some things that are bothering me… Politics influences a lot of things, and money influences a lot of things. There are some very large power companies that are really nervous about solar."

Joe Nash
Florida Power & Light has been approved for massive rate hikes. They began implementing new increases last year and they will continue. The state Supreme Court is investigating the legality of it all. The fact is, depending on a major energy supplier for the next 20-30 years is a bad idea. Our solar customers in Florida become energy self-sufficient. They lock in their rates, then they own their electricity supply.
Some people are wondering about net metering..
People need to be careful as this is where they can get into trouble… Matter of fact, I just did a YouTube video on that, 'The five things you should know before going Solar in Florida.' Net metering is just one item we talked about.
Is there something you would maybe advise them to pay attention to when thinking about going solar? Maybe some tips you could give them?
Educate yourself. I must have at least 30 YouTube videos, and they're all on different topics, five minutes long, and easy to digest.
How does a water heater fit into the whole energy consumption?
How does solar work?
How do batteries work?
Just different topics that people that do research can easily get straight answers to. Invest in solar, and produce your own power cheaper than what you're being charged so you aren't subject to rate hikes. Going solar makes a lot of sense but only if you have somebody you trust to help you get there.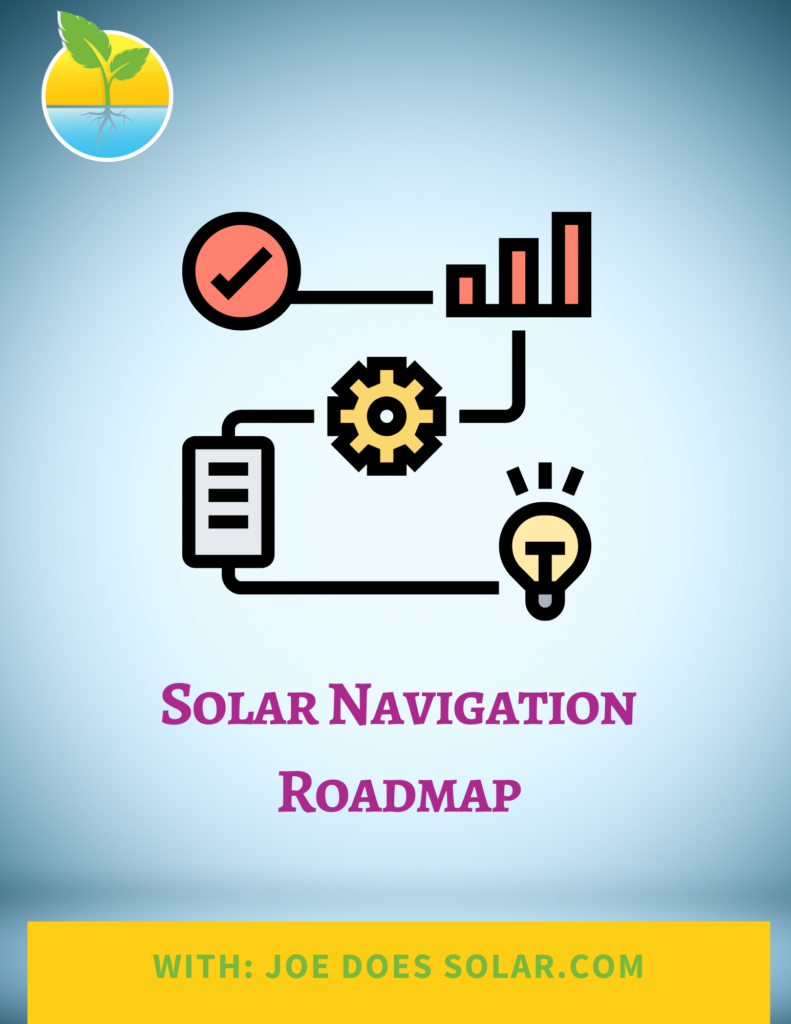 We'll take you step by step through the solar navigation roadmap. Starting with a basic analysis, we then look at every facet of energy usage in the home to give you a real-world savings analysis. If there are no real-world savings, there's no solar deal.
Don't get sucked into a high-pressure sales situation. They will make it sound like a no-brainer. It's usually something you need to think about, weigh, and consider all the options before signing on the dotted line.
This quick 2-minute assessment will help you know if you're situation is right for solar.